Trade Services
Our trade arm, Holts Lapidary is a stalwart of the UK jewellery industry. Housing one of the largest teams of lapidaries in the country, we provide responsibly sourced fine gemstones and lapidary services to business customers and other jewellers within the trade. The London Gemstone Company was founded as a response to the ever-changing jewellery market. We provide all our clients with a simple, quick and efficient way of sourcing gemstones.
Trade enquires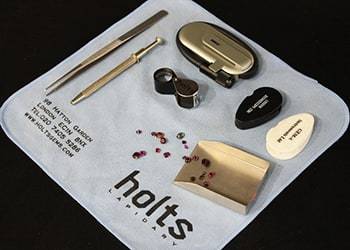 Gemstone Testing
With a range of standard gemmological testing equipment, Holts Lapidary are able to identify a wide range of gem materials for both mounted and loose gemstones. Identified gemstones are issued with a certificate qualifying cut, colour, weight, measurements and other physical attributes.
This is also included in Holts Lapidary gemstone valuation service, along with an insurance valuation.
Cutting
Holts Lapidary is home to a team of highly qualified lapidaries, with the ability to cut and polish your loose gemstone to any required shape. As well as cutting rough gemstones, Holts Lapidary carry out repairs and re-polishing, to transform your gemstone back to its finest condition.
Polishing
Polishing is key to encouraging a gemstone's optimal lustre to shine through the cut stone. Holts Lapidary services include polishing, to achieve a smooth surface that enhances the unique colour and characteristics of the stone.
Faceting
Faceting is the accurate cuts and specific angles that work to encourage internal reflection throughout the gemstone, and encourage plenty of brilliance, sparkle, and show the gemstone's colour in its best light.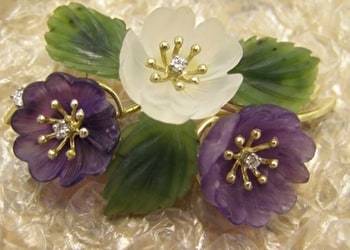 Carving
Using diamond plated tools, gemstones can be carved and engraved to achieve the design you're after. Holts Lapidary are able to take bespoke commissions and conduct repairs for unique gemstone carvings.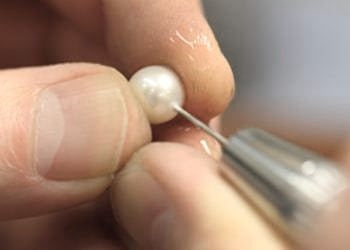 Drilling
Drilling is used to prepare gemstones for beaded jewellery, earrings and pendant settings, or create larger holes for furniture such as clocks and figurines. Holts Lapidary are able to create news holes, half drill for mounting, or enlarge holes to your specific requirements.
Restoration
Holts Lapidary take great joy in restoring an object back to its original state. With an experienced team of lapidaries, Holts Lapidary are able to restore precious and semi-precious objects including clocks, statues, frames, fireplaces and smaller objects such as jewellery boxes.
Holts Lapidary will match new material to the original, fixing any chips and damages with careful precision to get your unique item looking as good as its original condition.