Meet our team
Today, as it always has been, our customers' experience is top of our priority list. It's not just about making a sale, it's about listening to our customers and finding or creating that ultimate piece of jewellery or gemstone, it's about building relationships that last with our customers and creating trust through our knowledge and expertise. We strive to provide our customers with jewellery or gemstones that they will cherish for years to come and that will hopefully be passed down for generations to come.
Jason
Chair
Jason joined the family business after practising as a lawyer for a number of years. Growing up in a home where tales of international gemstone hunting adventures was normal dinner patter, meant a change of career to join the family endeavour was inevitable!
From an early age, Jason learned the value of training. Learning to do a job properly was at the heart of the Holt family ethos and a value his father Robert, in particular, held dear. The importance of training and developing people is why Holts has been a pioneer in training. Whether it's the first and only apprenticeship jewellery school for the UK trade, in the form of Holts Academy (now the British Academy of Jewellery) set up to ensure the longevity of craftsmanship and skills for the industry, or more latterly helping the government develop its apprenticeship programme across all occupations (the Holt Review) – helping people fulfil their potential is the golden thread which ties it together.
In recognition, of his contribution to the jewellery sector and apprenticeships, Jason was awarded a Commander of British Empire (CBE). https://www.linkedin.com/in/jason-holt-cbe-b589751/
Having travelled far and wide with his father, from Tuscon Arizona, China and North Korea in the 1990s, Jason has seen the meticulous effort in turning a rough rock into a sparkling gem. He learned to facet and requalified as a gemmologist so that he could continue the tradition of the business's reputation for quality. Every gem and jewel coming through Holts Gems is carefully sourced, cut and turned into a jewel the team are proud of.
Now in its eighth decade, the team at Holts continue to master their trade and in the true nature of the old-style apprenticeship – passing on skills from one generation to the next -Jason has passed the baton to the next generation of talent in Alicja Wooles, a graduate but some years ago. Alicja is continuing the legacy of Holts Gems, to provide unrivalled expertise for each of its customers, to give them joy from an article with intrinsic preciousness and treasured memory.
Alicja
Managing Director
As a child of 5 years old, Alicja would holiday with her grandparents by the Baltic Sea. At that time, particularly after a big storm, little pieces of amber would appear on the beach, and discovering them felt like a real adventure.
Having parents that deal in antiques, and have an antique restoration shop in Lublin, Poland, sparked her interest, and appreciation for all things beautiful.
Years later Alicja moved to London, initially working for a jewellery company in Wimbledon, she frequented the V&A and Natural History museums, sealing her passion for jewellery. 
Pursuing her dream, she moved to Birmingham, and studied at the Birmingham School of Jewellery where she graduated in gemmology, jewellery making and design, and gained her FGA and DGA.
Once back in London she studied with Jenifer Bloy perfecting her jewellery design techniques.
Joining Holts in 2008 Alicja enjoyed the opportunity to use her gemmology skills.
'It is wonderful to be surrounded by such beautiful gemstones. The exceptional quality of some still gives me goosebumps, while some try to trick you with sophisticated treatments and methods of synthesis. It feels like being a detective, trying to piece together the journey of each gemstone from the moment it left the ground. You never get bored'
Whilst at Holts, Alicja gained her qualification as a Valuer with National Association of Jewellers, implementing a new structure to Holts valuations.
In 2020 Alicja took on the role of MD, which she has found to be a fascinating and rewarding journey.
'Coming from bespoke background, the individual client is always at the centre of any decision we make. I love talking to people and find them fascinating. We work on a lot of engagement rings and special pieces of jewellery. Hearing client's story behind their inspiration for the design and guiding them through the process makes us a part of their happy story, which I find priceless.'
Alicja continues to lead the company, demanding excellence in every area, and delivering exceptional customer service. 
Amy
Senior Jewellery Designer & Gemmologist
Amy
Senior Jewellery Designer & Gemmologist
Amy has been part of the Holts team as a Jeweller Designer since 2010. She first joined the Holts after completing her degree in Fine Art. Whilst working with Holts she has gained her foundation and FGA in gemmology.  Amy now works part-time with Holts since having three children.
Amy is passionate about gemstones! Coloured stones are her favourite, especially those with interesting inclusions such as emeralds, or when spectacular effects are created such as asterism in star sapphires. Amy is fascinated by amber specimens where insects have been fossilised in the tree resin for millions of years.
When Amy isn't working you will find her running around after her three young children or enjoying a large glass of wine. If she can find time, Amy loves to read and draw.
"I love drawing inspiration from the Art Nouveau period and their organic, feminine designs. The use of gemstones and enamel in the jewellery of this era are truly inspiring. Gemstones are amazing! I find it incredible the beauty which nature can create. Even the inclusions which are often considered imperfections are beautiful and like nature's own piece of art.
Melissa
Campaign Manager
Born in China, Melissa began to learn drawing in her childhood, she moved to the UK alone to study art when she was 17. She joined Holts in 2016 for a work placement as a part of her BA Graphic design degree. She also completed foundation and FGA courses with Gem-A during the same time. Combining her skills, she stayed as a part time photographer and marketing assistant at Holt. In 2019, she completed her MBA in fashion management and since then Melissa has been managing Holts' websites and social media accounts. 
With a solid academic background, Melissa studied various subjects including art history, gemmology, graphic design, game design, coding and marketing, her design style is very creative and versatile. Her works have been featured on various leading fashion publishers such as London Fashion Week, WGSN etc. 
"I always get inspiration from the Rococo period, I believe Maximalism is the new minimalism. Thus, my favourite museum is the Wallace Collection, and I love Versace! It is a little bit controversial but that's me :). I am a gamer, I like video games, the ninth art, something I can't live without. Also, I love to end an email with a meme. "
Marianne
Jewellery Designer & Trainee Gemmologist
Marianne
Jewellery Designer & Trainee Gemmologist
Marianne's start in jewellery industry was not the most conventional, but certainly inevitable. Having made jewellery in her spare time since she was 12, it was no surprise she made the leap into fine jewellery.
Whilst at university studying Biomedical Sciences, Marianne often visited Natural History Museum and the V&A, where she admired the jewellery and mineral collections.
After completing her Masters degree, she worked for a time in immunology research, but it was not long before her passion for art and jewellery brought her to Hatton Garden.
Growing up between Miami and London with a large Latin American family, Marianne is a natural people person. Today she uses her love of jewellery for creating beautiful pieces, and her gemstone knowledge to assist clients with bringing their ideas to life.
Marianne is currently pursuing her Graduate Gemmology Diploma from GIA as well as undertaking a course in jewellery illustration with the Karpov sisters.
Sofia
Jewellery Designer
A portuguese goldsmithery and arts connoisseuse, Sofia turned to the United Kingdom in 2014 in order to further her academic and technical prowess, successfully graduating from UAL's Central Saint Martins and UAL's London College of a Fashion, with a BA in Fashion Jewellery.
Sofia's expertise in the field of jewellery design, which spans over a decade of experience, is complemented by an extensive knowledge of Art History, Fashion and Architecture, mainly that of the early 20th century. Some of Sofia's greatest strengths are, therefore, her plurality, versatility, international background and design software knowledge, qualities which contributed to her being awarded multiple prizes, including the GDGS 2020 Jewellery Public Vote and Swarovski's Innovator 2020 awards.
Having grown surrounded by the vast nature of Lisbon's countryside, whilst supported by a loving and inspiring family, Sofia was granted the right environment to foster her curiosity and passion for different worlds, such as biology, music and arts: the natural, historical and the manmade. Today, these interests push her to constantly travel around the globe, all the while researching new, greener processes and trends and merging them with the techniques of yore.
Since joining Holts Gems, Sofia has–in a manner reminiscent of her academic roots– specialised in luxury jewellery and now in gemology, thus enabling her to do what she loves the most: helping people find their perfect jewellery pieces and being part of people's stories.
"Jewellery may not be essential for sustaining life but it has long been a form of sustaining meaning across lives."
Stefan
Account Manager
Starting his bookkeeping career at the age of 18. Stefan started as an apprentice in a small payroll & bookkeeping business. Whilst completing his apprenticeship course he grew and learnt the skills he knows today. He got to know the clients and started to take over more and more work until he was managing his own client base on his own. Almost 8 years on he is now working for himself and has
taken on more clients along the way.
Stefan was introduced to Holts as a recommendation. He has helped tidy up the accounts and works on the bookkeeping/finance side daily. He comes into the office once a week and works the rest at home. This works out perfectly for both Holts and Stefan as we know he is always there at the end of a phone call if anything urgent comes up and he has time to continue working for his other clients.
"I have recently moved into my first home with my girlfriend who now is recently my fiancé. I am looking forward to working with Holts to make the perfect ring for her. We also have our puppy Milo who has been a bundle of joy since having him.
I feel like working as an apprentice and gaining the experience from a young age has set me up with the best possible start in my bookkeeping career."
Debbie
Client Relationship Manager
Debbie
Client Relationship Manager
What Special Skills Do Youb Bring to Holts:
Super multitasking! My main focus is stringing but I love speaking with our customers and managing the shop floor activities. I love to be busy!
If You Could Make Jewellery For One Person, Who Would It Be And Why:
Coco Channel, because she knows how to wear pearls with class and elegance.
What Is Your Favourite Gemstone:
Spinels.
What's Your 'Top Tip' For Our Customers:
Have your most precious pearls re-strung every 2 - 5 years to keep them in top condition. Make sure you give them a gentle clean regularly to prevent a build up of perfume and general grime that can destroy the special shine of pearls over time.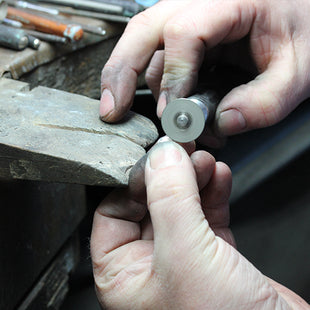 Workshop
Lapidaries | Jewellers
Workshop
Lapidaries | Jewellers
It's team of world class Lapidaries and jewellers are its pride and joy; having won many industry awards for the meticulous craftmanship it delivers to some of the most famous jewellery and design houses including Faberge, Cartier and Asprey. Our workshop provides a full range of lapidary services, such as carving, faceting, polishing and restoration. With a combined total of 81 years experience, Holts' highly accomplished Lapidary department will be happy to assist you with your project.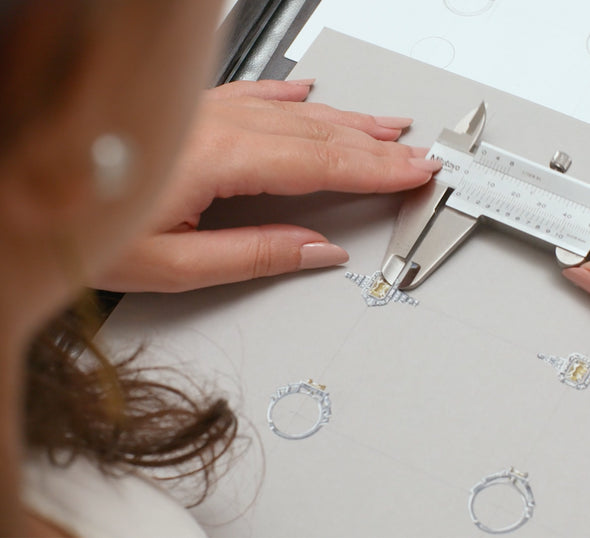 Careers
Check out our latest career opportunities.
Join the vibrant team turning Hatton Garden on its head - with a dynamic, artisanal and expertised approached to the jewellery industry.