Fancy colour diamonds are incredibly rare, with only one found in every 10,000 natural diamonds. These exquisite gems boast a spectrum of hues beyond classic white, earning them the "fancy colour" moniker.
At Holts, our engagement ring selection is diverse and includes natural, treated, and lab-grown fancy colour diamonds. Whether you're looking to use them as your centrepiece or accent stones, our knowledgeable designers are dedicated to guiding you through the process and finding the perfect fancy colour diamond for your dream engagement ring.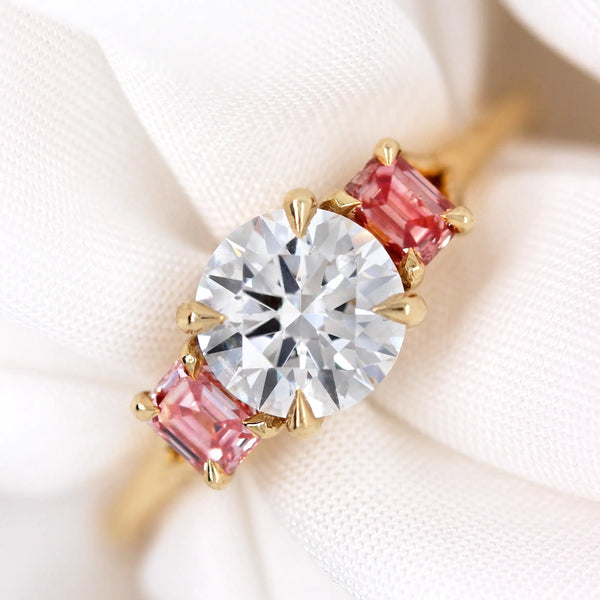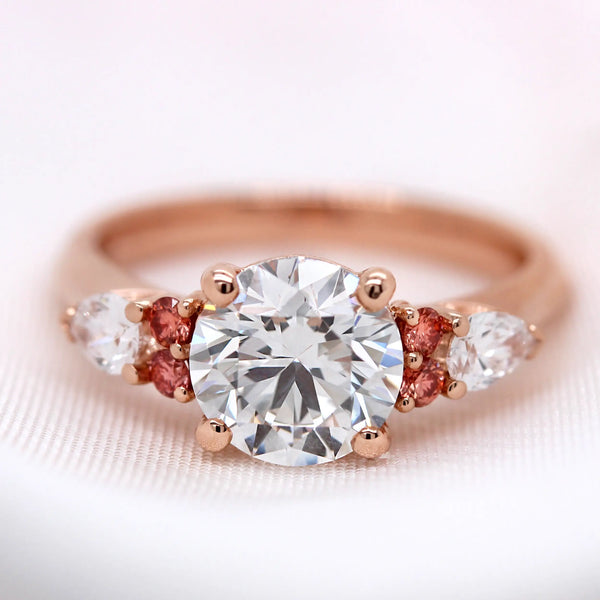 Radiant Sunbeams
Yellow Diamond Engagement Rings
Yellow diamonds, also known as canary diamonds, are an excellent choice for couples who want to add some sunshine to their engagement. These diamonds come in various shades, from pale yellow to vibrant yellow. They are also rare, which makes them more valuable. While the colour is essential, it is also essential to take into consideration the diamond's cut and clarity. A round cut yellow diamond looks great as a solitaire, while the pear cut is perfect for a more modern look such as a toi et moi.
Pink Perfection
Pink Diamond Engagement Rings
Pink diamond engagement rings are eye-catching and feminine, making them an ideal choice for someone who enjoys a touch of whimsy. Pink diamonds come in several shades, ranging from pale pink to intense pink, also known as hot pink. The more intense the pink, the more expensive the diamond. Couples are increasingly choosing pink diamonds as side stones and pairing them with 18ct rose gold to create stunning, dreamy rings.
Green Diamond Engagement Rings
Green diamonds, one of the rarest natural coloured diamonds, are more commonly found in the jewellery market as their treated counterparts. They exhibit a range of green hues, from yellowish-green to bluish-green.
Blue Diamond Engagement Rings
Blue diamond engagement rings are ethereal and enchanting, making them a perfect choice for someone who loves the ocean. Blue diamonds come in several shades, from pale blue to a deep blue. The more vivid the blue, the more expensive the diamond. Round cut treated blue diamonds are becoming increasingly popular and they are considered affordable.
Ring Styles & Inspiration
A number of celebrities have been seen sporting fancy colour diamond engagement rings, adding a unique twist to traditional betrothal jewellery. Singer Carrie Underwood, for instance, flaunts a stunning yellow diamond halo ring, while actress Blake Lively's ring features a beautiful oval light pink diamond. Hollywood icon Elizabeth Taylor was gifted a historic yellow diamond by Richard Burton, and Jennifer Lopez's engagement ring from Alex Rodriguez showcases an impressive emerald-cut green diamond. These rare and captivating fancy colour diamonds serve not only as symbols of their love but also reflect their individual, stylish personas.
Bespoke Services
Design your own bespoke engagement rings and transform ideas into reality.
We specialise in made-to-order diamond engagement rings. Whether you recreate one of our classic designs or have an idea of your own.