Ring Style Guide
Step into the shimmering world of engagement rings, where dazzling designs like the timeless solitaire, enchanting trilogy, radiant diamond band, and heavenly halo take centre stage. But why stop there? Make your love story even more magical by sprinkling in unique and personal touches to create a stunning symbol of your devotion.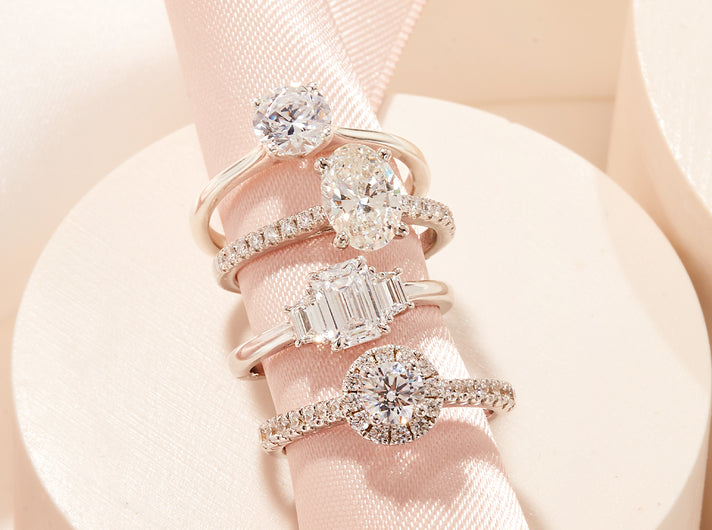 Classic & Timeless
what is a solitaire ring?
A solitaire ring is the most popular style of engagement ring. It typically has a single diamond or gemstone set in the middle of a metal band, with no other stones or embellishments. This classic and timeless design gives a simple yet elegant look to an engagement ring.
Past, present & future
what is a trilogy ring?
Trilogy, as known as a three-stone ring. Each stone has its own sentiment: The first stone generally represents friendship and camaraderie while the second signifies the love between the two individuals. Lastly, the third diamond stands for the promise of a lifetime together and all that they will share moving forward. Trilogy rings are beautiful and meaningful pieces of jewellery that are sure to provide comfort to those that wear one.
Effortless elegance
what is a diamond band ring?
A diamond band ring is a ring adorned with the glistening sparkle of diamonds all the way around. Typically round or oval-cut diamonds are set in a line, overlapping each other to create a continuous ring that radiates from palm of your hand. It is also possible to customise the ring further with other prized gems such as rubies or emeralds.
Heavenly Halo
what is a halo ring?
A diamond halo ring is a beautiful and eye-catching piece of jewellery that centres around a larger diamond surrounded by small accent diamonds, creating the effect of a sparkling halo. Often oval and pear-shaped stones are popular in these settings, adding to the luxurious design. This surrounding ring of stones emphasizes the size and brilliance of the central diamond and adds sparkle for an extra touch of glamour,
Prong Setting
The most delicate and classic style, allowing more shine to be seen. Suitable for the various diamond shapes.

Morden and add a little bit of geometric aesthetic to the ring, ideal for larger stones.

Name after the bird of prey, it provides a contemporary and edgy look. A good option for a cushion cut or a fancy cut.

Double the protection and security, it could be double round or talon, your ring your choice.