Ring Size Guides
A proposal is a very exciting time and you may feel immense pressure to get it right! Whether you are designing your own unique ring or buying something from our shop, we will help you get it right from the start. You can use a ring that they already wear and bring it to the shop however you do need to know which finger they wear it on as the third finger is smaller than the middle finger. Our experienced team can help you find the nearest fit.
Guidelines for getting your ring size right:
Make sure that the fit of the ring is comfortable for you. You should be able to get it on and off easily, but at the same time it should not be loose while on your finger. Remember also that your ring size could change depending on your body temperature and the time of day. Your fingers will be slightly larger when you are warm or in the middle of the day. If you are trying to get a ring size without using a ring size chart then avoid using flexible materials like paper or string as your result may be inaccurate. These are common ring sizes to give you a general idea of whether you have found the right size: Small – K; Medium – M; Large – O
When buying a ring as a gift:
As with measuring your own ring size, it will be easiest to find out someone else's by using one of their existing rings. So if you can, borrow a ring from the recipient, one that they wear on the right finger for your gift and use that to determine their size. Alternatively you could try asking their friends and relatives whether they know the person's ring size.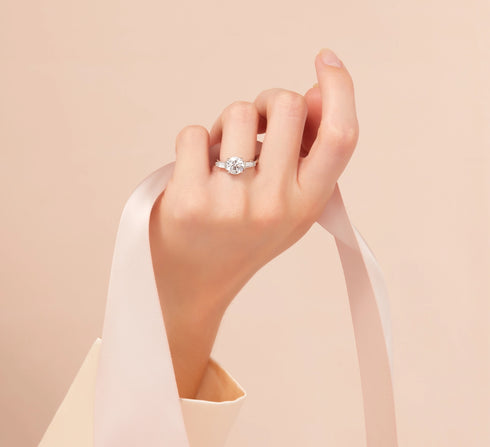 Having your ring resized at Holts:
If you have bought a ring from Holts online or in the store then you can have it resized for free. Just come into the showroom or email us to find out more. Most rings can be re-sized two sizes up or down but ensure you check with our staff first before making a purchase or creating your own design that this will be possible. Some gemstone-set rings are unable to be re-sized owing to the nature of the setting.